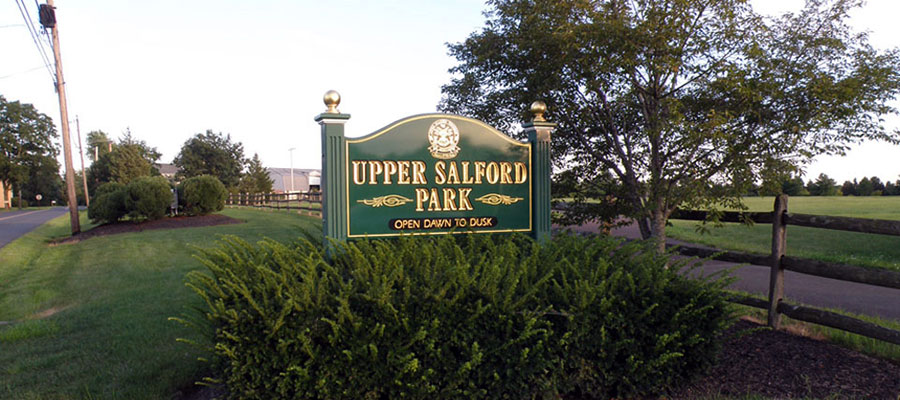 The Upper Salford Park, located at the corner of Schwenksville and Salford Station Roads (GPS: 559 Salford Station Road, Schwenksville PA 19473), offers something for everyone. There are soccer, softball, and baseball fields, a volleyball pit, tennis courts, Pickleball, and an 18-hole Frisbee/Disc Golf course. Playground facilities for our younger visitors provide child-friendly challenges in a safe and well-maintained environment. A port-a-potty is on site for the public's use. Our main pavilion has plenty of picnic tables for family picnics and is available to rent for private parties including the use of the kitchen and restrooms with flush toilets. There are 4 miles of trails that snake through the charming butterfly garden, around our various sport and recreational fields, and over the beautiful scenic grounds with tables and benches for resting or picnicking.  The multi-use 1.1 mile Connector Trail, which opened in the Summer of 2022, leads down and past Spring Mountain Adventures, and then connects to the Perkiomen Trail.  Our Annual Tree Lighting Ceremony held the 1st Sunday in December is a favorite time shared by Upper Salford Township residents.
Park Amenities
Frisbee/Disc Golf Course (18 holes)
Soccer Fields
Softball Fields
Baseball Fields
Tennis Courts
Pickleball (played on tennis courts)
Sand Volleyball Pit
Pavilion with Refrigerator/Freezer/Sink and Restrooms (with Rental Only)
Water Fountain
Walking Trails with Tables and Benches
Gazebo and Perennial Garden
Pond
Paved Parking and Playground Facilities for Small Children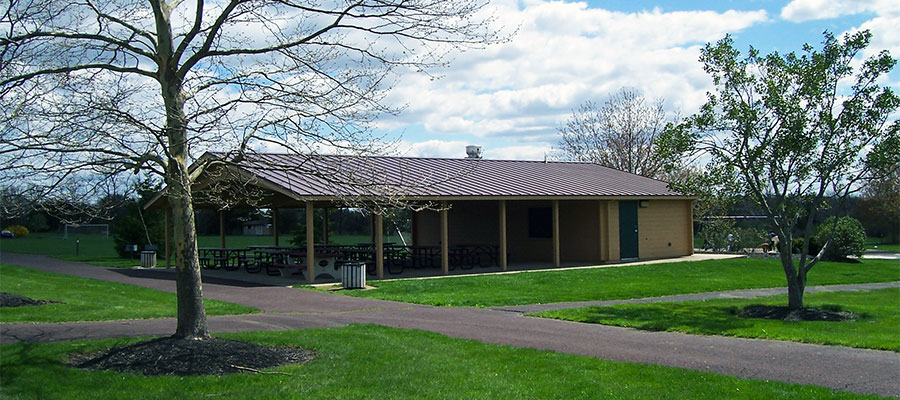 Pavilion Reservation Information
You must call the office and speak to the office staff to reserve the Main Pavilion for your private gathering! Voicemails and emails will be NOT be accepted.
The Main Pavilion can be reserved from May 1st through September 30th. Reservations for the current year are accepted from February 1st on, on a first come, first serve basis. We do not allow more than one rental of the pavilion in a day. You must call the office to reserve a date.
Additionally, any request of Special Events of a larger scale, must be pre-approved by the Board of Supervisors.  The request should be submitted to the office at least 90 days prior to the event date for a decision to be determined.
Cost of Rental
Family Rate (Under 100 guests): Resident Rate=$100 and Non-Resident Rate=$200
Family Rate (Over 100 guests): Resident Rate=$200 and Non-Resident Rate=$300
Corporate/Business Rate: $500
* Family and Corporate rates include use of pavilion with restrooms and kitchen. Restrooms are only for rentals and are locked when pavilion is not rented, due to vandalism in the past.
Prices DO NOT include a $50.00 refundable deposit. The deposit must be made when the key is picked up and will be returned within 5 business days after the key is returned and the pavilion and kitchen are found undamaged and without excessive cleaning required for preparation of the next rental.
Kitchen Comes With: Refrigerator/Freezer, hot/cold running water, microwave, ice machine, 4 outside outlets to be used for crock pots, warmers, music, etc.
Suggestions: It is suggested that all parties renting the pavilion bring their own utensils, wash cloths, towels, paper towels, and dish detergent. For reservations, contact Amy or Lori at the Township Office (610) 287-6160.
Park Rules and Regulations
The park is open from sunrise to sunset.
The possession and/or consumption of alcoholic beverages and non-prescription drugs within the park is strictly prohibited.
Motor driven vehicles shall be parked only in designated areas and only between sunrise and sunset.
Motor driven vehicles are prohibited on walking paths or any non-parking lot areas, particularly in the vicinity of the pavilion.
For events that need to mark paths and/or routes, only cones or flags may be used. Spray paint of any kind is prohibited.
Absolutely NO confetti!
All litter shall be placed in bags inside the trash receptacles.
Fires are permitted only at designated places. Please carefully extinguish all fires.
Pets must be on a leash. All animals must be under restraint. You must clean up after your pet as required in Ordinance 2016-1, Chapter 16, Part 2, Section 16-211.
Treat recreational and picnic equipment with respect. This is your community park to use, share and enjoy.
Click here for the Park Rules form that accompanies the Pavilion Reservation Form.
Upper Salford Park Softball, Baseball and Soccer Fields
If you have a team that is interested in using the park fields, please contact James DeSpain at USPschedule@gmail.com. When requesting field usage, please include your name, organization, name of desired field(s) you are requesting (see map), date, start time, end time and phone number. Please allow at least 24-48 hours for a response to your request.  Office staff does not schedule field usage.
All organizations requesting to use an Upper Salford Township park field, must provide a Certificate of Insurance naming Upper Salford Township as an additional insured prior to the use of any fields. Click here for Insurance Coverage Requirements.  The Certificate of Insurance can be faxed to 610-287-9435 or emailed to uppersalfordtownship@gmail.com.